21
« Last post by zuolun on May 15, 2022, 10:50:12 AM »
•
去年(2021年4月21日)DBS 投资了 S$1.08bn 在中国的银行 (SZRCB)] ;今年(2022年从4月头开始)中国有非常明显的政治风险是不可忽视的。
倒不停(转载)
https://www.youtube.com/watch?v=HSzkyFrPO80
•
"这歌词写的太有水平了"
What happens to bank stocks when interest rates go up?
~ 1 May 2022
https://www.youtube.com/watch?v=mgDzy_7cEvI
Interest rates are set to increase over the next few years. The question is, is there any correlation between bank stock prices and interest rates?
Will rising interest rates also improve the performance of Singapore banks?
Singapore banks top estimates but flag caution in weak markets
~ 29 Apr 2022
https://www.reuters.com/business/finance/dbs-q1-profit-falls-10-weak-markets-revenue-slips-3-2022-04-28/
Singapore lenders DBS Group and OCBC gave cautious outlooks on Friday (Apr 29) after reporting 10% declines in quarterly profits amid weaker economic growth, though their performances still beat analysts' estimates.
Though rising interest rates and the full re-opening of Singapore's trade-dependant economy after restrictions during the pandemic spell good news for banks, inflation risks are weighing on their prospects.
DBS picks up 13% stake in Shenzhen bank for S$1.08bn (US$800mn)
~ 21 Apr 2021
https://bondevalue.com/news/dbs-picks-up-13-stake-in-shenzhen-bank-for-800-million/
Singapore's largest lender DBS bought a 13% stake in Shenzhen Rural Commercial Bank (SZRCB) for S$1.08bn (US$800mn), marking its biggest acquisition in China yet. Separately, sources report that DBS is also bidding for Citigroup's consumer business in Asia after Citi revealed they were exiting 13 consumer banking markets which includes China, India, Indonesia, South Korea, Malaysia and Philippines.
DBS ~ Completed the Elliott Wave 5-wave up, riding on the 3-wave down, critical support @ S$28.42
DBS closed with an inverted hammer @ S$31.23
(+0.17, +0.5%)
with 4.15m shares done on 13 May 2022.
Immediate support @ S$30.40, immediate resistance @ S$32.24.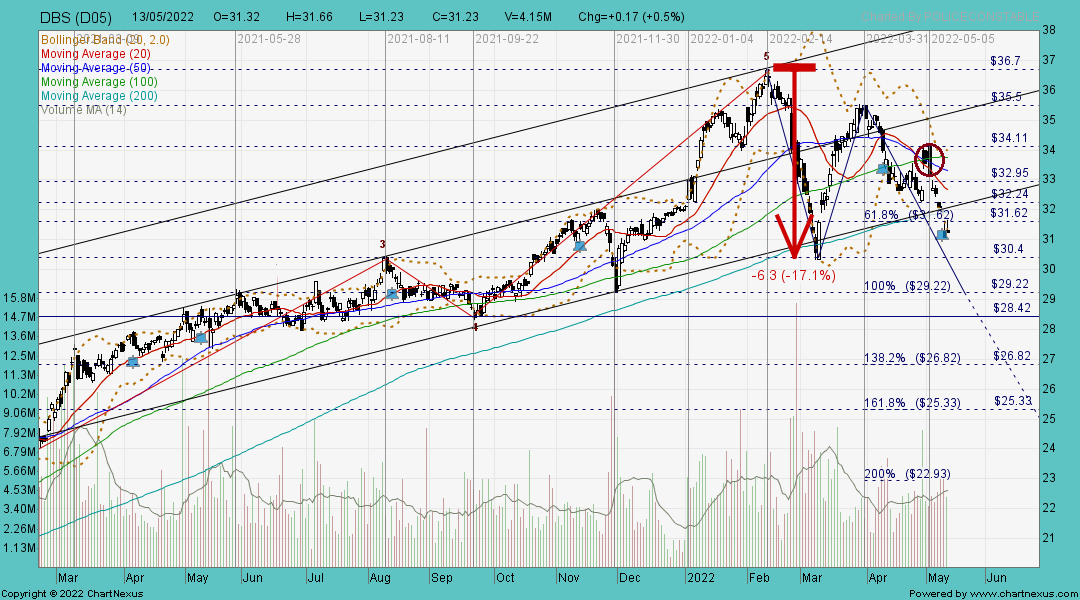 DBS ~ Bearish Tower Top formation, strong support @ S$30.00, strong resistance @ S$35.00
DBS closed with a black marubozu @ S$33.24
(-0.47, -1.4%)
with 4.65m shares done on 5 Jan 2022.
Immediate support @ S$32.83, immediate resistance @ S$33.85.
DBS closed @ S$31.23 on 13 May 2022.